Fonte: Wikipedia
Italian cold cut, historically produced in the town of Felino (hence the name) and in some neighboring towns, as Sala Baganza and Langhirano, all in the province of Parma. In the rest of Emilia-Romagna, and also in other regions, the same cold cut, not in fact produced in the province of Parma (where the town of Felino), is commonly called "Salame tipo Felino".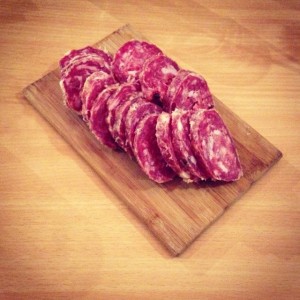 Felino salami is produced traditionally with pure pork. The dough is made from pork called "chopped bench" (chuck of the animal), composed of a 70% lean and 30% fat choices. The grinding is done with dies medium, obtaining a dough medium-large grain that is added with salt and pepper grains. Are usually added small amounts of potassium nitrate and sometimes even ascorbates (antioxidants and acidity regulators) and sugars. After grinding, are also added garlic and crushed pepper and dissolved in dry white wine, then the mixture is packed into natural intestine pork of Danish origin. Traditionally, for making the Felino salami are using the part of the pig intestine corresponding to the rectum: it is a gut-looking smooth and thick, which keeps the soft dough contains even after long curing times. The ideal seasoning for the Felino salami is at least 60 days, propitiated by the microclimate of the town of Parma. Today the majority of manufacturers Salame Felino uses, for the maturing of the product, special temperature-controlled environments.
It comes with a slice of deep red color, with white fat ground. The compactness of the meat is closely related to aging and the quality of the meat used for producing the salami. The bouquet is intense, very characteristic, while the taste is delicate.
It is one of the most typical appetizers of Parma, especially if coupled with Prosciutto di Parma, which is produced in the same area. Compact and fragrant, usually goes with Lambrusco. (both those of Modena and Reggio Emilia).
Traditionally is cut diagonally so thus creating slices oval, length about twice the diameter of the sausage. To enjoy it at its best is very important thickness: traditionally the slices should be thick as a grain of pepper. When cut, it has a bright red color, with lardons of pinkish white fat.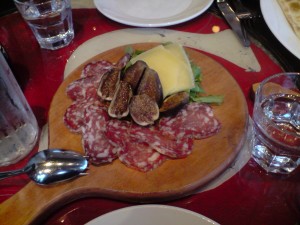 Very similar to the Salame Felino, which is distinguished by the fat particles larger is the Salame Fiorettino.
The town of Felino has dedicated to its salami a historical museum.
Salame Felino has been recognized by the Ministry of Agriculture and the region as a traditional food product. The European Community has made the recognition of the P.G.I.
Visit online store